HI Hi HI!! I am so excited to launch my Spring 2022 Studio Collection. In my wonderful Charleroi studio.

If you are new, WELCOME!! I am always excited to meet new faces and hear new stories. If you're returning, THANK YOU and welcome back. You may notice things are slightly different, but once you peek around you'll see they're pretty much the same. I hope not confusing. 

You will notice for my standard studio sessions there will be 2 options for your session choice.

Creative Fee
The option to pay a creative fee and wait to see your images before you purchase them. Perfect if you only need a couple images, if prints and products is more what you're looking for or if you are unsure about it all, about me. Creative fee covers all the back end of the session and lets me keep printing & digital prices lower. 

After the sessions you will receive a gallery with lightly edited images. You'll make your purchase selection between digitals, prints and products then I'll have your final images to you with in a week.

Prepay for the Whole Gallery
The option to prepay for the final gallery outright prior to your sessions (how we've typically done). This is perfect for those who have been with me for many moons and like the old way. You will get a ton of photos. This is also the best option if you love candid photos as much as I do. 

Spring 2022 Special: Pre-pay for the Whole Gallery with any session and waive the creative fee.

Creative fee / Retainer
The retainer which duplicates as the Creative Fee is non refundable. It is however transferable should the need arise that you have to postpone your session. I ask for a respectful 24 hours but understand children and emergencies and will tolerate up to 2 hour notice.

Tipping
There is an option for tipping me on the booking app. I do not anticipate a tip at all. It's a feature I can't turn off. By no means am I discouraging you - but I do not want you to feel obligated or guilty. I prefer tips in prop and wardrobe donations!! I also except reviews.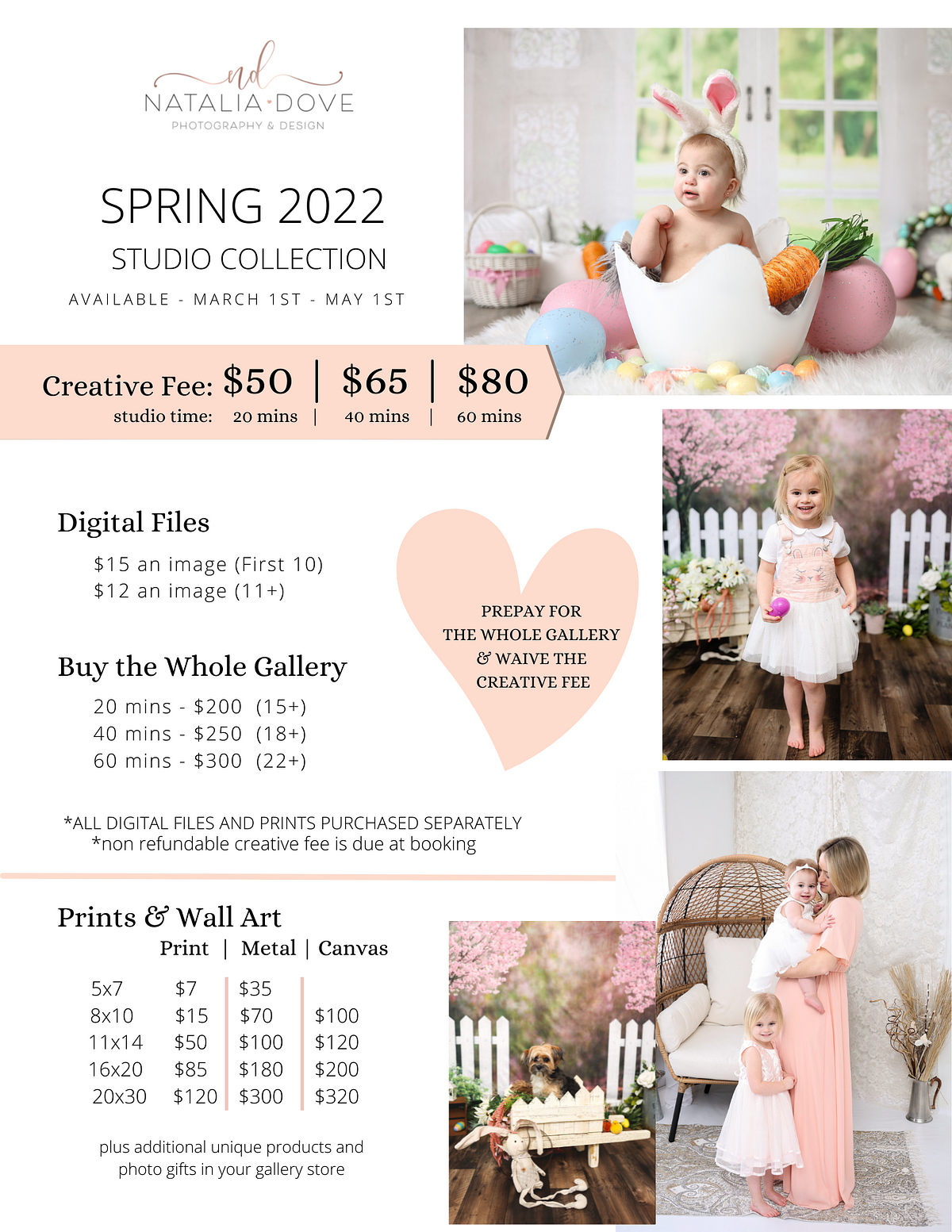 FAQ

What if I want to do an Easter session and a Mommy & Me session?
The 40 or 60 minute option to allow enough time to get both with out feeling too rushed. The more people in the photos the more I would push for 60 minutes. 

What if I want to do an Easter session and a 1st birthday session at the same time?
Of course why come in more than you need, especially if baby is easy. Choose the 40 or 60 minute option. If you wish to do a smash cake do the 60 minute one. If you feel you need more time. Let me know and I can accommodate that as well.

What do I do if my baby gets sick?
If anyone in your home is sick, you are around anyone who is sick, please postpone your session. I will have these sets up for enough time that there shouldn't be a reason we can't get together at a later time. 

Can I pay in Cash?
Your retainer needs to be paid through the portal. You can pay the remainder of your session in cash at the time of the session if you choose. Let me know so you don't get an annoying email. You can pay with venmo, paypal & credit card through the booking page. 
I want something I don't see!
Let me know. This isn't all I do. 

Can I do a photo with all the cousins?
Yes, choose the 60 minute option to guarantee enough time. If you hope to do all the cousins, individual families, siblings and individual child. 40 minutes if you're looking for less.

What if I want to do more than 1 mini sessions?
You are not limited to the amount of sessions you are able to book. I will honor a 15% discount for every session booked past the initial one. This is great if you want an outside and studio session. Or if your little one won't cooperate for a very long time to get 2 sessions in.

Whats the difference in a mini session and a 20 minute session? 
Mini Session is 15 minutes. Made to get in and out without much fuss. Only 1 backdrop option. 20 minute gives us a little bit more wiggle room as a 20 minute session is really 30 minutes studio time. With mini sessions theres guaranteed to be someone before you or after you or both.

What if I want more photos than whats included?
Awesome!! I know you'll love your images. Once you get your photos back simply buy more from the gallery. Your gallery know which package you already received so it knows how much the additional digitals are, so no worry in overpaying.

Any other questions please feel free to reach out to me at natalia.dove@gmail.com